News
Stay informed about the latest enterprise technology news and product updates.
Part 4: How to set up a Host record
Tutorial: A primer on DNS and MX records, part 4: How to set up a Host record
As I explained in Part 3, an MX record won't work without a Host record in place, so let me explain how to set...
Continue Reading This Article
Enjoy this article as well as all of our content, including E-Guides, news, tips and more.
one up:
In the DNS console, right click on your domain listing and select the New Host (A) command from the shortcut menu to view the dialog box shown in Figure B.

Enter the server's name in the Name field. Be sure to use the simple name, not the fully qualified domain name (relevant -- not relevant.brienposey.com).

Now enter the server's IP address and click the Add Host button.

Figure B

Enter the server's name and IP address and click the Add Host button.
You don't have to worry about creating a PTR record unless you plan on supporting reverse DNS queries. Also, you usually don't want to check the "Allow Any Authenticated User to Update DNS Records" checkbox for security reasons.

TUTORIAL: A PRIMER ON DNS AND MX RECORDS

Home: Introduction
Part 1: How DNS works
Part 2: An introduction to DNS records
Part 3: How to create an MX record
Part 4: How to set up a Host record

ABOUT THE AUTHOR: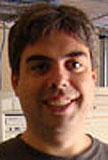 Brien M. Posey, MCSE
Brien M. Posey, MCSE, is a Microsoft Most Valuable Professional for his work with Exchange Server, and has previously received Microsoft's MVP award for Windows Server and Internet Information Server (IIS). Brien has served as CIO for a nationwide chain of hospitals and was once responsible for the Department of Information Management at Fort Knox. As a freelance technical writer, Brien has written for Microsoft, TechTarget, CNET, ZDNet, MSD2D, Relevant Technologies and other technology companies. You can visit Brien's personal Web site at http://www.brienposey.com.
Dig Deeper on Microsoft Exchange Server Mailbox Management