Get started
Bring yourself up to speed with our introductory content.
Three essential steps for preparing to migrate to Exchange 2013
This guide covers everything you need to prepare to migrate to Exchange 2013, including initial migration decisions, Exchange 2013 features to consider and ensuring a smooth migration process.
Introduction
If your enterprise has decided it's time to migrate to Exchange 2013, the migration process might seem overwhelming. But we broke down the important preparation steps into three phases to make the process easier to navigate.
The first step is to consider all other options before settling on a migration to Exchange Server 2013. Looking at the pros and cons of what Exchange 2013 offers is also an important part.
The second step is to look at the new and improved features in Exchange 2013. Some features may be more helpful than others. If you're looking for integration with SharePoint 2013, shortcuts for easing compliance or more load-balancing options, Exchange 2013 will get you moving in the right direction.
The final step is making sure your enterprise does as much as possible ahead of time to keep the migration simple. What happens here is important because it not only sets the course for how the migration goes, but also can prevent future problems. Knowing what to look for and what to do can prevent these problems.
If you feel overwhelmed, don't be -- this is where we come in. We compiled the best tips to help ease the migration process -- covering each step in detail to make sure your enterprise is ready to migrate to Exchange 2013.
1

Weigh a move to Exchange 2013

-
Step 1: Confirm that a move to Exchange 2013 is the right decision
As your enterprise looks to migrate to Exchange 2013, begin the process by making sure Exchange 2013 is the right choice. Be sure to look at all other options, including cloud deployments and hybrid setups. Weighing the pros and cons of what you'll get with an Exchange 2013 migration is also important. These tips cover some of the initial steps to take as you ask why you should migrate to Exchange 2013.
2

Features in Exchange 2013

-
Step 2: Look at the features that will be most helpful
Once your enterprise decides to migrate to Exchange 2013, you'll have access to new and improved features to ease your workload. Exchange 2013 can help your enterprise see tighter integration with SharePoint, meet compliance requirements, and even open up options for anti-malware protection and load balancing. These tips take a look at some of the features that can help your enterprise.

Download this free guide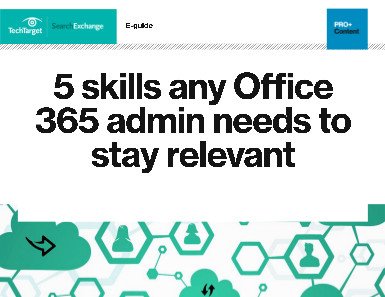 PDF: 5 skills any Office 365 admin needs to stay relevant
Download this PDF to learn 5 skills that any Office 365 admin should have to remain relevant in a time when collaboration automation appears to be winning out. Also find some of our experts' best Office 365 management tips.
3

Ensure a smooth migration

-
Step 3: Keep the Exchange 2013 migration process smooth
After your enterprise looks at the features in Exchange 2013, the next step is preparing for the actual migration. What you do at this point in the process is important because your actions will determine how smoothly the migration goes and the types of problems you could see once the migration is complete. These tips walk you through the prep steps to take just before you migrate to Exchange 2013.