Get started
Bring yourself up to speed with our introductory content.
The essential guide to Exchange Server backup and recovery
Administrators should carefully craft Office 365 and Exchange Server backup plans to mitigate any issues and keep data secured during the backup process.
Introduction
Email is a critical component of any organization, and securing and backing up email files and data in case of a disaster should take utmost importance. Administrators tasked with backing up Exchange Server must familiarize themselves with what data exists where and what to do to protect that data.
This guide walks Exchange administrators through the challenges associated with an Exchange Server backup, and Office 365 or hybrid messaging administrators through Office 365 backup. It also covers native and third-party tools that can ease the process.
1

Leave no data behind

-
Exchange and Office 365 gotchas
Backing up Exchange Server and Office 365 data comes with unique challenges. Traditional backups, such as disk- and tape-based backups, and third-party tools may not provide full protection, so administrators need to know what limitations exist in their chosen backup method. This section exposes some of the challenges and misconceptions associated with Exchange Server and Office 365 backups.
2

DR planning to keep email up

-
Keep calm and recover your data
The security of Exchange Server and Office 365 should always top an Exchange administrator's priority list. Without a disaster recovery plan in place, the IT team never retrieves lost data, which can bring an entire organization to a standstill. This section looks at some of the best practices for disaster recovery planning and how to protect against data loss within an Exchange or Office 365 deployment.
Tip
Exchange Server requires access to Active Directory, which in turn requires domain name system access. To keep Exchange running, consider reconfiguring virtual machines to point to a different DNS server. Continue Reading
Answer
Microsoft provides Office 365 customers with options for granular recovery, but self-service features such as SharePoint Online versioning often impose limits on what a user can recover. End users should adopt their own disaster recovery plan to mitigate Office 365 data loss. Continue Reading
Tip
Active Directory Federation Services is an integral component of Office 365, but organizations can switch from AD FS to DirSync Password hash sync as a backup. Password hash sync ensures passwords or hashes are copied to Office 365 in case of a disaster. Continue Reading

Download this free guide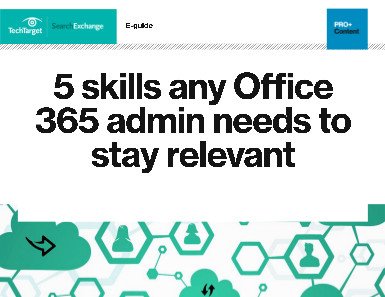 PDF: 5 skills any Office 365 admin needs to stay relevant
Download this PDF to learn 5 skills that any Office 365 admin should have to remain relevant in a time when collaboration automation appears to be winning out. Also find some of our experts' best Office 365 management tips.
By submitting your personal information, you agree that TechTarget and its partners may contact you regarding relevant content, products and special offers.
You also agree that your personal information may be transferred and processed in the United States, and that you have read and agree to the Terms of Use and the Privacy Policy.
3

Exchange Server backup tools

-
Native and third-party options to back up Exchange
Microsoft offers several native and traditional methods for backing up Exchange Server, but a bevy of third-party tools also meet or exceed administrators' needs. This section covers various Exchange Server backup tools and features that are the right fit for enterprises.
4

Perform an Office 365 backup

-
Third-party tools to back up Office 365
Messaging administrators, whether fully on Office 365 or spread across Exchange Server and Office 365, cannot use a built-in Microsoft tool to secure Office 365 data via backups. Vendors such as CloudAlly offer products that can perform full or specific backups. These tools may also allow admins to browse Office 365 data using certain search criteria to filter the results.
Tip
Since there is no native Microsoft tool to back up Office 365 mailbox content, administrators have to use a third-party tool. These four tools back up and secure Office 365. Continue Reading
News
Barracuda Networks' cloud-to-cloud backup includes support for Office 365, beginning with message-level backups for Exchange Online. Customers can use the Barracuda Cloud Control interface to restore Office 365 data when necessary. Continue Reading
News
In response to a growing migration to Office 365, Datto introduced cloud-to-cloud backup for Office 365 to its partners. After acquiring Backupify in 2014, Datto integrated Backupify's Office 365 product into its cloud. Continue Reading