Manage
Learn to apply best practices and optimize your operations.
The essential admin's guide to Office 365 PowerShell
Introduction
As more organizations make the move from an on-premises messaging or collaboration platform to Office 365, the admin center may not be robust enough to manage dozens -- or thousands -- of end users.
Microsoft gives administrators a familiar tool to manage these cloud-based services -- the PowerShell command-line shell and its related scripting language. While IT staff can use the GUI within the admin center, Office 365 PowerShell cmdlets give admins better control over cloud assets. Whether it's a routine job, such as checking user permissions, or it's more complex like creating thousands of new mailboxes after a merger, PowerShell delivers reliable results in an efficient manner.
1

Exchange Online and PowerShell

-
Generate reports and set up resources with scripts in Office 365
Despite the rise of chat apps like Slack and Yammer, most organizations use email as the preferred way to communicate. Exchange Online is the cloud-based version of the venerable Exchange Server messaging system. Administrators who have used PowerShell to tame on-premises Exchange environments can carry these skills over to Exchange Online without too much trouble. This section explains how to perform key tasks, such as disabling multiple mailboxes, with a script built with PowerShell cmdlets.
2

SharePoint Online automation

-
Scripts and tricks to manage Office 365
SharePoint Online is a key collaboration tool for many organizations. Administrators need a way to quickly and easily provision sites or fix user problems with minimal downtime. The SharePoint Online Management Shell gives admins a way to manage large numbers of users, sites and other resources with scripts built from PowerShell cmdlets.

Download this free guide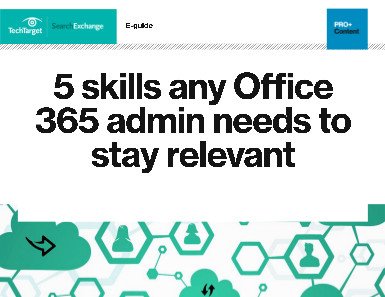 PDF: 5 skills any Office 365 admin needs to stay relevant
Download this PDF to learn 5 skills that any Office 365 admin should have to remain relevant in a time when collaboration automation appears to be winning out. Also find some of our experts' best Office 365 management tips.
3

Office 365 management

-
Gain control of the Microsoft cloud
Office 365 PowerShell cmdlets provide IT teams with more granular control for critical areas related to security and compliance. Administrators can use PowerShell scripts to prevent data loss and enact corporate policies to prevent a violation of certain regulations.
Tip
Short on time? Use these PowerShell scripts to add new users to your organization and assign Office 365 licenses simultaneously. Continue Reading
Tip
Manually creating dozens -- or thousands -- of Office 365 users is a huge time sink. A PowerShell script can automate the process in less time with more consistent results. Continue Reading
Tip
Exchange admins with PowerShell knowledge can execute complex Office 365 tasks in compliance, e-discovery and data loss prevention, without significant effort. Continue Reading
4

Glossary

-
PowerShell terms to know
Systems administrators interested in Microsoft's scripting language and its automation powers should keep these definitions handy.