News
Stay informed about the latest enterprise technology news and product updates.
The top Exchange Server content of April 2015
In our monthly feature, we look at the Exchange content most popular with our readers in April.
Our readers wanted to learn quick fixes for some of the most common errors in Outlook, what they should expect before migrating Public Folders to Exchange 2013 and ideas for securing Office 365.

Download this free guide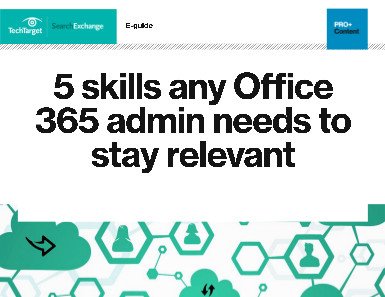 PDF: 5 skills any Office 365 admin needs to stay relevant
Download this PDF to learn 5 skills that any Office 365 admin should have to remain relevant in a time when collaboration automation appears to be winning out. Also find some of our experts' best Office 365 management tips.
By submitting your personal information, you agree that TechTarget and its partners may contact you regarding relevant content, products and special offers.
You also agree that your personal information may be transferred and processed in the United States, and that you have read and agree to the Terms of Use and the Privacy Policy.
The five most common Outlook errors and how to fix them
If you've run into one of these five error messages in Outlook, you're not alone. Our expert looks at the most common errors in Outlook and how to fix them.
What to know before migrating Public Folders to Exchange 2013
Before you move Public Folders to Exchange 2013, be aware that there are certain limitations that may affect the migration. Not only are there new limits to the number of Public Folders and their size, but the new limits do not apply to Office 365.
Boost Office 365 security with the AD FS extranet lockout feature
The Active Directory Federation Services extranet lockout feature can protect organizations from denial-of-service and brute-force password attacks by locking out an end user after a number of unsuccessful attempts to enter the correct password.
How has SharePoint Online collaboration evolved?
With new and enhanced features such as Office 365 Video, Delve and OneDrive for Business, Microsoft is developing SharePoint online to be on-par with its on-premises counterpart. However, there are features that will be available for SharePoint Online but not its on-premises older sibling.
Five areas to address to improve your Exchange 2013 setup
If you want to improve your Exchange 2013 setup, there are five areas you should look into, such as tools to assess the state of your server and load balancing to spread out workloads.
What content was most helpful to you in April? Was it something we didn't include in our list? Let us know in the comments or on Twitter @ExchangeTT.