News
Stay informed about the latest enterprise technology news and product updates.
October in review: the top Exchange Server content
For our monthly blog feature, we recap our most popular content from the previous month and share it with you.
October was the month of Office 365 on SearchExchange.com. Our readers were interested in learning about some of the particular parts that make up Office 365, including management and migration options.

Download this free guide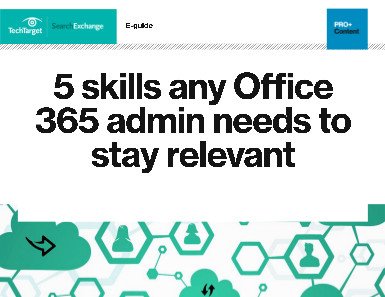 PDF: 5 skills any Office 365 admin needs to stay relevant
Download this PDF to learn 5 skills that any Office 365 admin should have to remain relevant in a time when collaboration automation appears to be winning out. Also find some of our experts' best Office 365 management tips.
Message classifications and their role in Office 365
Message classifications, which provide an interface to give users information about their messages, allow Exchange admins to apply business logic. They're considered to be one of the hidden gems in Office 365.
Options for managing Office 365 user accounts
Before beginning a migration to Office 365, admins will have to decide which way they will establish and manage user accounts. There are three options in the Office 365 management console to pick from, so it's important to study each option.
Third-party MigrationWiz tool to help with an Office 365 migration
There are lots of questions to answer during mergers and acquisitions, and some of those questions will revolve around Office 365. Native Exchange tools can help with a migration, but a third-party tool may be better for you.
Evaluate how ready you are for an Office 365 migration
Moving from Exchange to Office 365 requires lots of preparation and planning. You can gauge how ready your organization is for the move by answering questions about certain facets of the migration, such as Active Directory and your domain name.
Figure out why your connection is on the fritz
If your Exchange 2010 server keeps disconnecting to Outlook and the network isn't the cause, you have a few options for determining the cause and coming up with a fix.
What Exchange content was most helpful to you last month? Was it something we didn't include in our list? Let us know in the comments or on Twitter @ExchangeTT.