Exchange Server mailbox management advice
In this edition of our Exchange Server mailbag, our expert offers best practices when managing your mailbox, including how to properly set quotas and troubleshoot user problems with receiving attachments.

In this edition of our Exchange Server mailbag, expert David Sengupta offers best practices for managing mailboxes, including how to properly set quotas and troubleshoot user problems with receiving attachments.
Have a question of your own? Send it along to editor@SearchExchange.com
---
I'm having issues with our new Exchange 2007 server. There are some users who don't receive attachments from outside senders. If we have the same outside sender mail the attachment to my Gmail account, I can forward it from my Gmail account and receive it without a problem. I have increased all of the default size limitations. Do you have any idea what the problem might be?
Sengupta: I don't think this is an issue involving message size limits. I would start by tracing the route used by mail from the sender directly to your Exchange servers, then looking at the message headers to see which path is taken. Then, repeat this process as it comes from Gmail and look for any discrepancies between the paths.
In this process, you're trying to isolate whether there's another server between you and the sending organization that's circumvented when sending directly from Gmail to your organization. I would also look at settings like your client-side rules, transport rules, junk folder settings and any antivirus or antispam settings. This should help solve your problem.
What do you suggest as best practices to limit mailbox size on Exchange Server 2003? My users can point to instances where mailboxes have grown to 15 GB or more as an argument for not having any limits at the server level.
Sengupta: It's always easier to set limits at the outset, then gradually change them as storage needs increase or as exception requests come in. If you are in a quota-less organization, someone in your organization will need to make a decision and enforce it. Quotas anywhere from 200 MB to 1 GB are commonplace these days.
Failure to set quotas puts your Exchange server at risk. In theory, a mailbox could get filled up by something such as a targeted denial of service attack or a forwarding rule that goes haywire. This will end up filling your mailbox store disk and shutting down Exchange Server unless you have a prohibit receive quota set.
You should set warning to give adequate time to clean up a mailbox and set prohibit send at whatever quota you decide on as an organization. Another good practice is to set a substantially higher prohibit receive quota that only serves to shut down the mailbox in the event of a problem that could fill your server hard drive.
Is it possible to forward two mailboxes to the same external mailbox on Exchange Server 2003? Specifically, can the same auto-forward recipient address appear twice on the server?
Sengupta: Yes, this is possible. Set up a contact in your Global Address List with the appropriate recipient address, then add the contact to the alternate recipient field on both mailboxes. Alternatively, you could log into each mailbox via Microsoft Outlook, then set up a server-side auto-forwarding rule to send to this address.
ABOUT THE AUTHOR: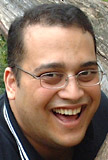 David Sengupta, Microsoft Exchange MVP
David Sengupta (mailman@quest.com), based in Ottawa, Canada, is a Group Product Manager in Quest Software's Infrastructure Management group and a Microsoft Exchange MVP. He has contributed to Exchange Server books, magazines, and white papers; is a regular Exchange Server columnist and speaker; and speaks at Microsoft Exchange events, Tech-Ed and IT Forum conferences.
Dig Deeper on Microsoft Exchange Server Mailbox Management