Manage
Learn to apply best practices and optimize your operations.
When OWA's default configurations aren't good enough
OWA runs fairly well with its default configurations in Exchange. But it could run better. Microsoft Exchange Server expert Brien Posey explains why it's important to determine the appropriate virtual directory and why you should simplify your OWA URL.
Exchange 2007's client access server enables Outlook Web Access to run well with its default configuration. However,...
Continue Reading This Article
Enjoy this article as well as all of our content, including E-Guides, news, tips and more.
it doesn't run optimally. Microsoft Exchange Server expert Brien Posey explains why determining the appropriate virtual directory is important and offers a way to make things easier for your OWA users.
---
One of the first steps after installing OWA is to determine which IIS virtual directory users should use to access OWA. This can be tricky.
Assuming that the Client Access Server role is running a dedicated Exchange 2007 server, choosing the appropriate virtual directory is fairly straightforward. If all of your mailboxes are being hosted on Exchange 2007, then users will access OWA through the /OWA virtual directory. If you're running Exchange in mixed mode -- Exchange 2007 mailboxes and legacy mailboxes on Exchange 2000 or Exchange 2003 -- use the /Exchange virtual directory.
When using the /Exchange virtual directory, the client access server automatically redirects users with Exchange 2007 mailboxes to the /OWA virtual directory. Users with legacy mailboxes are provided with mailbox access with no further redirection.
Things get a bit more complicated if the Client Access Server role and the Mailbox Server role are hosted on the same server. In this case, users who attempt to access OWA through the /Exchange virtual directory are automatically rerouted to the /OWA virtual directory, regardless of where their mailboxes are actually hosted. The /OWA virtual directory doesn't work with Exchange 2000 or Exchange 2003 mailboxes.
If you need to combine the Client Access Server role and the Mailbox Server role onto a single server -- but still require legacy mailbox servers -- you'll need to maintain two separate URLs if all users access their mailboxes through OWA. One of these URLs would have to point to the client access server's /OWA virtual directory. The other URL would have to be directed to a legacy front-end server.
Simplify an OWA URL
Once you've determined which virtual directory you want to use, you may be able to avoid a few help desk calls by simplifying the URL associated with the virtual directory. For example, suppose you configure OWA to require SSL encryption (as you should). Most users probably aren't used to typing HTTPS:// in front of a URL. If they fail to do so, they'll likely receive an error message.
Likewise, a user may also find themselves in unfamiliar territory if they accidentally omit the /Exchange or /OWA portion of the URL. You can prevent these situations by simplifying the URL for users.
The exact method to accomplish this task will vary depending on whether your client access server is running on Windows Server 2003 or Windows Server 2008. To simplify the OWA URL on a Windows 2003 server, open the Internet Information Services (IIS) Manager and navigate through the console tree to: Web Sites/Default Web Site.
Next, right-click on the Default Web Site container and choose the Properties command from the menu. You will now see the properties sheet for the server's default website.
Select the properties sheet's Home Directory tab and click on the A Redirection to a URL option. Enter the full URL to the OWA virtual directory into the Redirect To field and select the Exact URL Entered Above check box, as shown in Figure 1. Click OK to complete the process.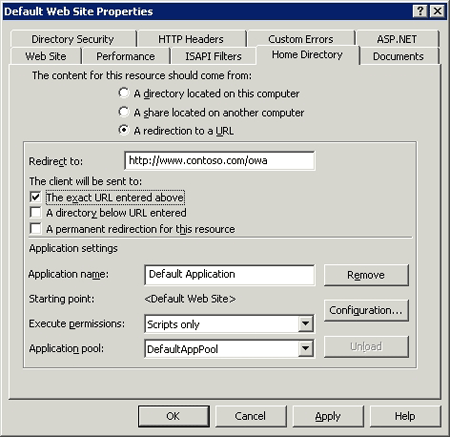 Figure 1. Enter the URL that you want to redirect your OWA users to.
Note: OWA doesn't provide access to Exchange public folders unless Exchange Server 2007 SP1 is deployed.
About the author: Brien M. Posey, MCSE, is a five-time recipient of Microsoft's Most Valuable Professional award for his work with Exchange Server, Windows Server, Internet Information Services (IIS), and File Systems and Storage. Brien has served as CIO for a nationwide chain of hospitals and was once responsible for the Department of Information Management at Fort Knox. As a freelance technical writer, Brien has written for Microsoft, TechTarget, CNET, ZDNet, MSD2D, Relevant Technologies and other technology companies. You can visit Brien's personal website at www.brienposey.com.
Do you have comments on this tip? Let us know.
Please let others know how useful this tip was via the rating scale below. Do you know a helpful Exchange Server, Microsoft Outlook or SharePoint tip, timesaver or workaround? Email the editors to talk about writing for SearchExchange.com.
Dig Deeper on Outlook Web Access
PRO+
Content
Find more PRO+ content and other member only offers, here.