Five Quick Links: SharePoint and Outlook integration
Frustrated that you have to manage SharePoint and Outlook? There might be some benefits to it after all.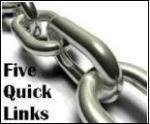 Exchange administrators who also manage SharePoint often grouse about having to maintain one more application....
Continue Reading This Article
Enjoy this article as well as all of our content, including E-Guides, news, tips and more.
By submitting your email address, you agree to receive emails regarding relevant topic offers from TechTarget and its partners. You can withdraw your consent at any time. Contact TechTarget at 275 Grove Street, Newton, MA.
You also agree that your personal information may be transferred and processed in the United States, and that you have read and agree to the Terms of Use and the Privacy Policy.

But interfacing the two platforms can actually breed familiarity and help admins in several ways. These five quick links demonstrate how seamlessly SharePoint and Outlook can work together and what that means for you.
For more tips and tricks check out our SharePoint topic page.
---
1. Manually move Exchange public folder message data to SharePoint
For years Microsoft has urged Exchange admins to migrate public folder content to SharePoint -- without supplying any tools to do it. Save money on third-party tools and move it by hand using Outlook 2010.
2. Moving public folder calendars and tasks to SharePoint 2010
Migrating calendar, contact and task data from Exchange public folders to SharePoint 2010 may seem daunting. These steps make it painless.
3. Monitor SharePoint with Outlook 2010 email alerts
Did you know you can use Outlook 2010 to create and configure SharePoint alerts? This tip explains how.
4. Using the Outlook Social Connector to view SharePoint 2010 sites
The biggest benefit of the Outlook Social Connector isn't seeing your colleagues' Facebook updates; it's the ability to follow their SharePoint 2010 sites.
5. Microsoft Outlook and SharePoint calendar dos and don'ts
Keep SharePoint team members organized with these dos and don'ts for entering, labeling and copying calendar entries from Outlook to SharePoint.
You can follow SearchExchange.com on Twitter @ExchangeTT.
Dig Deeper on Microsoft Office SharePoint Server
PRO+
Content
Find more PRO+ content and other member only offers, here.