Get started
Bring yourself up to speed with our introductory content.
Configuring a Unified Messaging IP gateway
Creating and configuring a Unified Messaging (UM) IP gateway requires associating it with an existing UM dial plan. Get the steps on how to accomplish it here.
Unified Messaging IP gateway
Continue Reading This Article
Enjoy this article as well as all of our content, including E-Guides, news, tips and more.

By submitting your personal information, you agree that TechTarget and its partners may contact you regarding relevant content, products and special offers.

You also agree that your personal information may be transferred and processed in the United States, and that you have read and agree to the Terms of Use and the Privacy Policy.

The IP gateway must be identified in the UM IP gateway object configuration for the UM server to be able to communicate with it.

It is possible to configure the UM IP gateway object in Active Directory to use an IP address or the Fully Qualified Domain Name (FQDN) of the physical IP gateway device. If you use the FQDN, there must be a corresponding DNS host (A) record so that the UM server can resolve the FQDN to an IP address. This address is used by the Session Initiation Protocol (SIP) to establish each session between the IP gateway and the Unified Messaging server.

Integrating voice with a data network does increase its exposure to data network vulnerabilities. For additional security, the Unified Messaging server is configured with a list of trusted SIP peers. If a SIP connection attempt is made from an untrusted SIP peer, the connection attempt will be blocked and an 1187 event will be logged.

After configuring the UM IP gateway object, you can associate it with the UM Dial Plan you created first. Be sure to verify that there is a UM server configured for the UM dial plan.

The UM IP gateway will also need at least one UM hunt group associated with it so that it knows the range of user extensions it covers. Fortunately, when you associate a UM dial plan with the UM IP gateway, a default UM hunt group will also be created if one does not already exist.

Creating a new UM IP Gateway

Use the following steps to create a new UM IP gateway:
Open the EMC with an administrator account that has the Exchange Organization Administrator role.
Expand "Organization Configuration" and click "Unified Messaging."
Click the "UM IP Gateways" tab.
Select "New UM IP Gateway" in the "Actions" pane.
Type the name of the UM IP gateway in the "Name" field, as shown below.
Type the IP address for the UM IP gateway in the "IP Address" field or type the FQDN in the Fully qualified domain name (FQDN) field.
Click "New."
Click "Finish."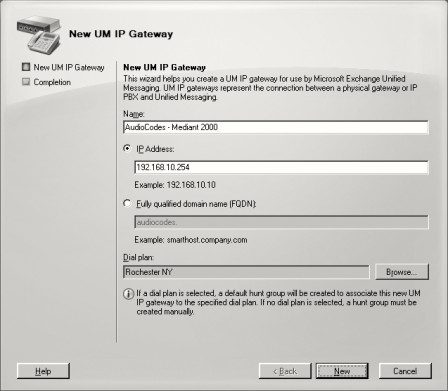 As an alternative to the EMC, you can also use the New-UMIPGateway cmdlet in the EMS, like in this example:
[PS]C:>New-UMIPGateway -Name "AudioCodes-Mediant 2000" -Address 192.168.10.254


Microsoft Exchange Server 2007 Unified Messaging for administrators



Home: Introduction to Unified Messaging on Exchange 2007


Part 1: An intro to voice systems for Exchange administrators


Part 2: Unified Messaging features in Exchange Server 2007


Part 3: Defining Exchange Unified Messaging architecture


Part 4: Deploying Unified Messaging servers on Exchange Server 2007


Part 5: Comparing VoIP PBX solutions for Unified Messaging


Part 6: Integrating Unified Messaging servers with a VoIP solution


Part 7: Creating a Unified Messaging Dial Plan


Part 8: Configuring a Unified Messaging IP gateway


Part 9: Mailbox policy configuration for Unified Messaging


Part 10: Creating and assigning a Unified Messaging hunt group


Part 11: Dialing rules and restrictions for Unified Messaging users


Part 12: Assigning Unified Messaging dialing rules to a mailbox policy


Part 13: Executing Unified Messaging grammar generation


Part 14: Enabling Unified Messaging mailboxes and users

This chapter excerpt from Microsoft Exchange Server 2007: The Complete Reference, by Richard Luckett, William Lefkovics and Bharat Suneja, is printed with permission from McGraw-Hill Osborne Media, Copyright 2008.

Click here for the chapter download or purchase the book here.
Dig Deeper on Instant Messaging and Unified Messaging
PRO+
Content
Find more PRO+ content and other member only offers, here.