Problem solve
Get help with specific problems with your technologies, process and projects.
Exchange unified messaging setup: From start to finish
Setting up an Exchange 2010 unified messaging server in a lab lets you test new UM features before putting them into production. One expert explains a quick and cost-effective approach to this sometimes cumbersome process.
This article is a follow up to Testing an Exchange Server 2010 unified messaging setup.
Continue Reading This Article
Enjoy this article as well as all of our content, including E-Guides, news, tips and more.
By submitting your personal information, you agree that TechTarget and its partners may contact you regarding relevant content, products and special offers.
You also agree that your personal information may be transferred and processed in the United States, and that you have read and agree to the Terms of Use and the Privacy Policy.
---
Exchange Server 2007 includes integrated Unified Messaging features that prove costly to implement. Before recommending these features to an enterprise for deployment, I wanted to test them in the lab. What I discovered, however, was neither easy nor cheap.
However, the Unified Communication team at Microsoft recommended that using the AudioCodes MediaPack 114 gateway can facilitate the deployment. Once I received my MediaPack, I noticed that it looked similar to my Linksys router, and I realized telephony had entered the picture -- furthering my confusion.
FXO and FXS ports
I noticed was that there were two ports on the back of the AudioCodes gateway that were labeled FXO and two ports that were labeled FXS. I had no idea what this meant, so I was hesitant to plug lines into them.
Foreign Exchange Subscriber (FXS) ports are for phones, modems and fax machines. They provide the dial tone, battery current and ring voltage. Foreign Exchange Office (FXO) ports point toward the phone company, not the subscriber. In my case, I'm plugging the FXO port into my PSTN phone line.
While reading about these ports, I also learned that plugging the wrong line into the wrong port could be harmful to your device, so it's a good thing I waited to plug anything in.
If you're working at home, the FXS port can be found on the phone jack. Plug your phone wire into one end; the other end plugs into the FXO port of the phone itself.
In a networking situation where you introduce a PBX or IP-PBX, the FXS phone jack port is plugged into the device's FXO port. The FXS port on the device is then plugged into the FXO port on the phone (Figure 1).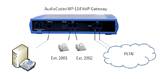 Figure 1: A look at the FXO and FXS ports found on the back of the MediaPack gateway.
After I plugged the device into my router using the Ethernet port, I figured I was ready to move on. But that wasn't the case. Like a typical home router, I still had to configure some items on the MediaPack.
Configuring the AudioCodes MediaPack
Much like a store-bought router, the AudioCodes MediaPack comes configured. However, to integrate it within my environment, I needed to make some adjustments. Thankfully, there was a downloadable demo kit as well as a lot of documentation related to using the gateway in different scenarios as well as with other unified communications set ups .
I knew there was a default IP on the MediaPack and a Web interface for the device. I modified my system to match the device's network configurations, tapped into the interface and saw that it was easy to change the IP address to match my actual network. This made things easier for me to understand because it involved similar interface terminology than working with a mini router did.
Once I had the device on the correct network, I had to configure it. The demo kit included three things: An .ini file, a .pdf with instructions and a PowerShell script.
I had to edit the .ini file to provide some basic information -- IP address of the UM server and the IP address of the AudioCodes box -- to the AudioCode box itself . The ports were already configured as extension 2001 and 2002, I left them alone for testing purposes. However, you could make modify those extensions to match any test phone you connect.
Note: You don't have to plug in two test phones; however, you won't be able to make any test calls to the other phone and hear it ring if you don't.
After you've configured the .ini file, use the Web interface to upload it to the device. Once that's complete, you have a fully functional IP gateway.
The PowerShell script was designed for Exchange Server 2007. Even though it can run on an Exchange 2010 UM server, I wanted to set up my own configuration using the following steps:
I created a dial plan at the Organization level of the UM node and named it. Then I configured the dial plan to use 4 for the amount of extension numbers, set the uniform resource identifier (URI) type as telephone extension and the VoIP security as Unsecured. Doing this automatically creates the UM mailbox policy. But I didn't configure that quite yet.
I configured a UM IP gateway with the IP address of the MediaPack and configured it to work with the dial plan. Then I set up an AutoAttendant to work with the dial plan.


I went into the dial plan properties, the policy, the gateway and the AutoAttendant and made additional configuration adjustments. Personally, I wanted to see how everything worked, so I turned on all of the features I could. For example, under the policy settings, I made sure to enable the check boxes for Voice Mail Preview and Outlook Voice Access, among other options (Figure 2).

I went back to the server branch of the navigation tree and looked for the UM node so that I could enable the server for UM. To accomplish this, I selected a dial plan for the server to work with.
From the navigation pane, select Server Configuration options -> Unified Messaging node. Next, select the server within the work pane that will handle Unified Messaging for your Exchange organization and select Properties from the action pane. Go to the UM Settings tab and add the dial plan to this UM server.
The next step is to enable users and configure them to use a policy. You can also configure PIN settings and extensions. In my environment, I chose the same PIN settings for both users, configured 2001 and 2002 extensions for each user in my test environment and configured the phone they were connected to.
I picked up extension 2001 and called 2002, and the AutoAttendant picked up. This told me that the phone-to-phone and AutoAttendant worked. Next, I tried leaving a message and retrieving it through Outlook. Unfortunately, Outlook Voice Preview worked, but not perfectly. The next option I tested was message retrieval and calendar access, which worked perfectly.
Next, I used my cell phone and successfully called the PSTN number that the line was connected to. My Exchange UM server picked up and asked me for the extension of the person I was calling.
J. Peter Bruzzese
J. Peter Bruzzese (Triple-MCSE, MCT, MCITP: Messaging) has been working with Exchange Server for more than 10 years. His latest book Exchange 2007 SP1 How-To published by Sam's Publishing was released in January 2009. He speaks about Exchange at various conferences including TechMentor. His website www.exclusivelyexchange.com includes 150 free training videos on Microsoft Exchange. He worked with Train Signal to provide an epic Exchange 2010 Training course, which has recently gone live.
Dig Deeper on Instant Messaging and Unified Messaging
PRO+
Content
Find more PRO+ content and other member only offers, here.