News
Stay informed about the latest enterprise technology news and product updates.
Prerequisites for migrating to Exchange Server 2003
Before migrating to Exchange Server 2003, run the Exchange Deployment Tools for a list of prerequisite steps to follow and consider these other key factors.
Before moving the Exchange 5.5 organization to Exchange Server 2003, several items need to be addressed from a...
Continue Reading This Article
Enjoy this article as well as all of our content, including E-Guides, news, tips and more.

By submitting your personal information, you agree that TechTarget and its partners may contact you regarding relevant content, products and special offers.

You also agree that your personal information may be transferred and processed in the United States, and that you have read and agree to the Terms of Use and the Privacy Policy.

technical implementation and design standpoint. Refer to Chapter 4, "Designing Exchange Server 2003 for a Small to Medium Network," and Chapter 5, "Designing an Enterprise Exchange Server 2003 Environment," for information on Exchange Server 2003 design concerns.

Checking current environment with the Exchange Server 2003 Deployment Tools

The Exchange Deployment Tools are an invaluable asset to any deployment team. They are straightforward and robust, and they cover a multitude of migration scenarios.

Even die-hard Exchange upgrade enthusiasts with years of Exchange 2000 migration experience under their belt can benefit from the tactical advice and safeguards built into the tools.

The Exchange Deployment Tools guide administrators through the Exchange Server 2003 migration process in a step-by-step fashion. The tools themselves can be invoked by simply inserting the Exchange Server 2003 CD (or clicking Setup.exe if autorun is disabled) and then clicking on the Exchange Deployment Tools link. The tools, illustrated in Figure 15.1, initially lead the migration team through a series of prerequisite steps.

These prerequisite steps should be followed exactly as described in the tool. In fact, the entire migration process outlined in this chapter can be followed via the Exchange Deployment Tools. In addition to running through the prerequisite steps listed in the tools, several key factors must be taken into account before deploying Exchange Server 2003.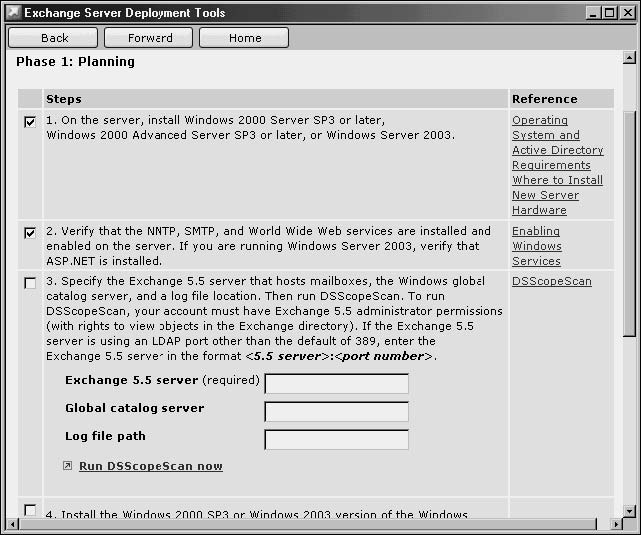 Figure 15.1 Exchange Deployment Tools. (Click on image for enlarged view.)
TIP
For organizations designed to support SMTP relay functions, continue to use them through the migration process and then replace them with Routing Groups. If the Exchange 5.5 relay servers are under the control of another group in the organization, place the Routing Group with the relay server in its own Administrative Group.
The second piece of the one-to-one environment that must be one-to-one is the number of mailboxes per Active Directory account. In Exchange 5.5, a Windows NT account could have an unlimited number of mailboxes associated with it. In Active Directory, the messaging components of the user account are just additional attributes of the user, so the mailbox is really part of the user account. It was quite common for Exchange 5.5 administrators to use a single account for multiple mailboxes, especially for administrative functions such as backup and virus-scanning products, and also for resources such as conference rooms. Linking the Active Directory accounts to the Exchange 5.5 mailboxes can be done either manually for a few mailboxes or for a large number of mailboxes by using the NTDSNoMatch utility, or by using the Resource Mailbox Wizard in the ADC Tools, described in more detail later in this chapter.
TIP
To view the Windows NT Accounts with multiple mailboxes, use the Exchange 5.5 Administrator program and run a directory export to a CSV file. In the Exchange Administrator program, select Tools, Directory Export and export all mailboxes from the Global Address List container. Open the export file in Excel and sort the spreadsheet by the Primary Windows NT account column. Scrolling through the Excel sheet or running a duplicate query in Microsoft Access reveals all of the Windows NT 4.0 accounts that were used on more than one mailbox.
Consolidating the Exchange 5.5 organization
The more items that exist in Exchange 5.5, the more items must be migrated to Exchange Server 2003. It's a given that mail database and public folder servers need to be migrated, but all the connector servers might not be necessary in the Exchange Server 2003 environment. Now is the time to rethink the Exchange design. By consolidating servers and using features such as clustering, it is now possible to locate all the Exchange installations at a few central hubs on the WAN where the administrators with the best Exchange skills reside. In addition, the enhanced remote client access capabilities introduced in Exchange Server 2003 allow for site consolidation, further reducing the number of servers that must be supported. Of course, the migrated Exchange Server 2003 environment can mirror the exact same configuration as Exchange v5.5. It's just an option (and opportunity) to rethink the best configuration for the organization.
Later revisions of Exchange 5.5 introduced a utility called the Move Server Wizard that allows for the consolidation of Exchange 5.5 organizations and sites. An organization's migration can be made simpler by consolidating the Exchange sites into a single site. If the organization must remain in Mixed Mode for an extended period of time, the organization should consider consolidating into a single site before the migration process. Having a single site allows the administrators of the organization to move mailboxes and still retain flexibility with message routing. To run the Move Server Wizard, the organization must be at Exchange 5.5 Service Pack 1 or higher.
CAUTION
You cannot run the Move Server Wizard after you begin migrating into a mixed Exchange v5.5/Exchange Server 2003 environment. You must be in full Exchange Server 2003 Native Mode before you have a chance to rearrange and configure your Exchange Server 2003 Administrative Groups; therefore if you want to make any Exchange Organization modifications, be sure to do them before you begin your migration to Exchange Server 2003
Foreign mail systems connectivity
One of the biggest changes for organizations moving from Exchange 5.5 to Exchange Server 2003 regarding foreign mail connectivity is that there is no Exchange Server 2003 version of the PROFS/SNADS connector. The easiest solution to this problem is to leave a single Exchange 5.5 site behind to handle the PROFS/SNADS connectivity. The downside to this solution is that it delays the organization's move to Exchange Server 2003 Native Mode until another solution is put into place. For a long-term solution, investigate using SMTP to connect the systems, or migrate the PROFS user to Exchange Server 2003.
A second issue regarding foreign mail connectivity is that organizations might have put so much effort into getting their connectors stable and configured properly that they might not want to move their foreign mail connectors to Exchange Server 2003. As long as the organization can remain in Mixed Mode, it's okay to leave the connectors in Exchange 5.5. As with the PROFS/SNADS connector, it's better to leave all Exchange 5.5 connectors in a single Exchange 5.5 site than multiple sites. If this means moving the connector anyway to consolidate to a single Exchange 5.5 site, or if a single Exchange site doesn't make sense because of geography or WAN issues, consider moving the connectors sooner rather than later to Exchange Server 2003.
Upgrading service pack levels
To migrate from Exchange 5.5 to Exchange Server 2003, some or all of the Exchange 5.5 servers must be running at least Service Pack 3, and preferably Service Pack 4. Most organizations are already at that level, but those that are not should plan to perform the Service Pack 3 upgrade before starting the Exchange migration. Although it is wise to upgrade all, only one Exchange 5.5 server in the organization technically must run SP3 -- the one that the ADC replicates to.
If the organization is planning to consolidate services before migrating to Exchange Server 2003, it makes sense to postpone the Service Pack 3 upgrade until the consolidation through the Move Server Wizard is completed.


Migrating from Exchange Server 5.5 to 2003 -- 11 tips in 11 minutes



Home: Introduction


Tip 1: Comparing Microsoft Exchange Server 5.5 and 2003


Tip 2: Prerequisites for migrating to Exchange Server 2003


Tip 3: Structuring an Exchange migration for the best results


Tip 4: Preparing the Active Directory forest and domain


Tip 5: Installing and configuring the Active Directory Connector


Tip 6: Installing the first Exchange 2003 system in a 5.5 site


Tip 7: Understanding Exchange 2003 mailbox migration methods


Tip 8: Migrating Exchange Server 5.5 public folders to 2003


Tip 9: Migrating Exchange 5.5 connectors and services to 2003


Tip 10: Completing the migration to Exchange Server 2003


Tip 11: Best practices for migrating from Exchange 5.5 to 2003

This chapter excerpt from Microsoft Exchange Server 2003 Unleashed, by Rand Morimoto, is printed with permission from Pearson Education, Copyright 2005. Click here for the chapter download or purchase the book here.
Dig Deeper on Exchange Server Deployment and Migration Advice
PRO+
Content
Find more PRO+ content and other member only offers, here.