Blocking a user's email access
In the following tip from "15 tips in 15 minutes: Managing recipients and distribution lists," you'll learn how to block a user's email access in Exchange including how to disable the user's Active Directory account, remove the user's mailbox and selected access protocols.
It sometimes happens that a user needs educating that access to corporate email is a privilege, not a right, and that you can revoke this privilege if it gets used improperly. For example, consider a user who sends an email to the entire GAL announcing that the user's manager is capable of performing certain improbable acts of personal gymnastics. If the user retains his or her job, you might want to restrict the user's email access...
Continue Reading This Article
Enjoy this article as well as all of our content, including E-Guides, news, tips and more.
By submitting you agree to receive email communications from TechTarget and its partners. Privacy Policy Terms of Use.

for a while. Exchange offers a variety of alternatives for temporarily or permanently removing a user's email access.
Disable the user's Active Directory account
One particularly draconian way to block a user from getting access to a mailbox is to disable the entire user account, as shown in Figure 5.51. Users who have been denied access to the network cannot access their email through any client protocol, including HTTP/WebDAV (Outlook Web Access) and POP3/IMAP4.
This option has the unfortunate (depending on your perspective) result of causing Exchange to bounce any incoming messages to the user. This sometimes causes a problem when the user interacts with customers or vendors. If this is the case, use one of the other options or refer to Microsoft Knowledge Base article 278966 for hints on avoiding message bounces.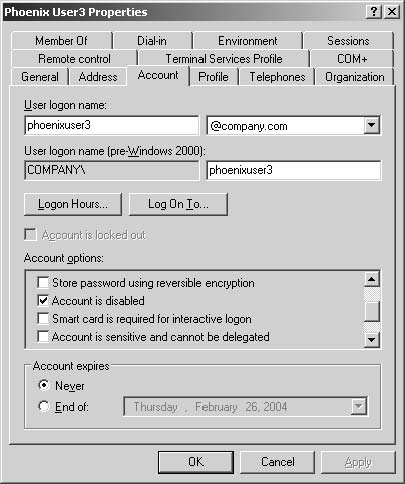 Figure 5.51 User properties in Active Directory showing Account Disabled flag. (Click on image for enlarged view.)
Remove the user's mailbox
You can remove the link between a user's object in Active Directory and the user's mailbox in Exchange by using the Delete Mailbox option in the Exchange Task Wizard. Right-click the user's object in Active Directory Users and Computers, select Exchange Tasks from the flyout menu, and then select Delete Mailbox from the list of tasks. (You can access this same task list from the property menu for a mailbox in Exchange System Manager.) Figure 5.52 shows an example.
The Delete Mailbox option results in the removal of the user's name from the Global Address List, the digital equivalent of banishment. Users sometimes get perturbed when you do this to them. Get written permission first.
By default, deleting a user's mailbox does not actually delete the user's messages in the mailbox store. Exchange retains a user's mailbox for 30 days, by default, before deleting the mailbox and its contents. (This value can be changed. See "Deleted Mailbox Retention" later in this chapter.) Any mail sent to the SMTP address of a deleted user gets bounced with a "Recipient Not Found" message.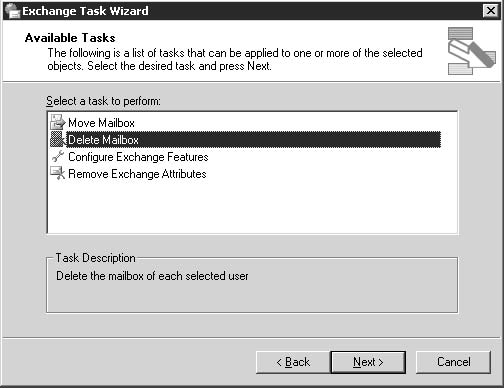 Figure 5.52 Exchange Task Wizard showing option to delete user's mailbox. (Click on image for enlarged view.)
Deny access permission to the user's mailbox
If you want the user to continue to receive mail but you don't want the user to read that mail, you can block access using mailbox permissions.
Open the Properties window for a user, select the Exchange Advanced tab then click Mailbox Rights. The Permissions window for the selected user opens with the Mailbox Rights tab selected, as shown in Figure 5.53.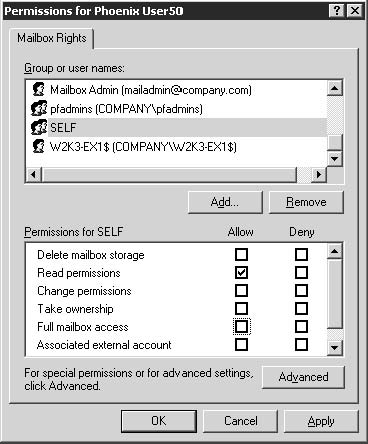 Figure 5.53 Mailbox Rights window for user mailbox showing how to remove Full Mailbox Access from user. (Click on image for enlarged view.)
The permission list contains an entry called SELF. This well-known SID acts as a placeholder for the user account represented by the Active Directory object where the ACL resides.
Uncheck the Allow option for SELF and click OK to save the setting. By removing the Allow permission for SELF, the user continues to appear in the GAL and can still receive mail, but the user cannot access his or her messages.
Remove selected access protocols
Users can access their mailboxes using any of the supported client protocols -- MAP , POP3, IMAP4, and HTTP -- as long as the corresponding service has been enabled at the Exchange server. A user can always make a MAPI connection using Outlook, but you can restrict access by the other protocols.
To change the protocol setting for a user, open the user's Properties window in Active Directory Users and Computers and select the Exchange Features tab, as shown in Figure 5.54.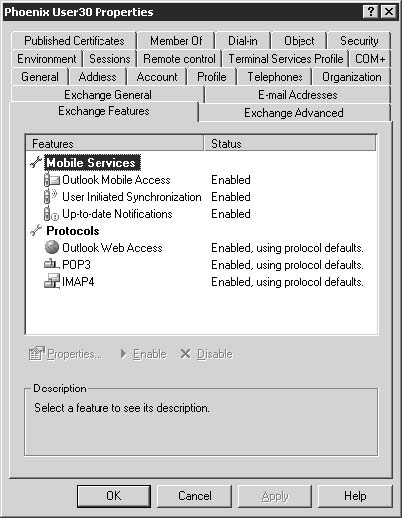 Figure 5.54 User Properties window in Active Directory showing that Exchange Features can be enabled and disabled individually. (Click on image for enlarged view.)
If you only want a particular set of users to access Exchange using OWA, you can disable the protocol for all other users.
You can also use the Properties of a particular protocol to determine whether Exchange uses Multipurpose Internet Mail Extensions (MIME) with HTML message bodies or plain text. The Plain Text option prevents potentially harmful HTML content from getting delivered to a user.
Dig deeper on Microsoft Exchange Server Mailbox Management