Microsoft Exchange Server is a mission-critical application for all companies -- from small and medium-sized businesses to large enterprises. Maintaining performance, scalability and email storage is vital. Our
Exchange Insider
e-zine offers a comprehensive look at Exchange Server administration
.
SearchExchange.com's Exchange Insider e-zine gives IT professionals the tools they need to monitor Exchange Server performance, develop and comply with email archiving policies and regulations, migrate to Exchange Server 2007 and navigate the waters of unified communications deployments within an Exchange environment.
Exchange Insider e-zine: Volume 4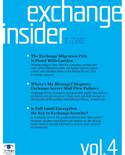 In this volume:
Exchange Migration Path Is Paved With Caution
Where's My Message? Diagnose Exchange Server Mail Flow Failures
Is Full Email Encryption the Key to Exchange Security?
Exchange Insider e-zine: Volume 3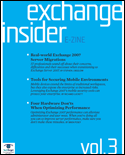 In this volume:
Real-world Exchange 2007 Server Migrations
Tools for Securing Mobile Environments
Four Hardware Don'ts When Optimizing Performance
Exchange Insider e-zine: Volume 2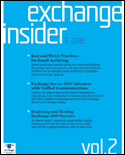 In this volume:
Best and Worst Practices for Email Archiving
Exchange Server 2007 Advances with Unified Communications
Deploying and Testing Exchange 2007 Servers
Exchange Insider e-zine: Volume 1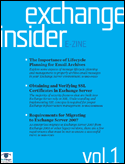 In this volume:
The Importance of Lifecycle Planning for Email Archives
Obtaining and Verifying SSL Certificates in Exchange Server
Requirements for Migrating to Exchange Server 2007
This was first published in February 2010