News
Stay informed about the latest enterprise technology news and product updates.
The top Exchange content of January 2015
In our monthly feature, we round up the Exchange content most popular with our readers and share it with you.
For the beginning of the new year, Exchange admins wanted to know which apps would be of value to their organizations and free tools to make Exchange Server deployments run effortlessly.

Download this free guide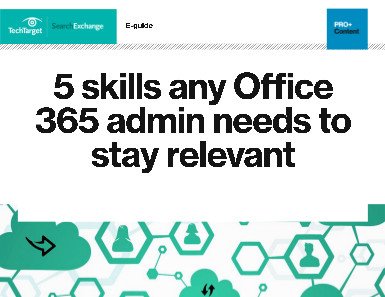 PDF: 5 skills any Office 365 admin needs to stay relevant
Download this PDF to learn 5 skills that any Office 365 admin should have to remain relevant in a time when collaboration automation appears to be winning out. Also find some of our experts' best Office 365 management tips.
By submitting your personal information, you agree that TechTarget and its partners may contact you regarding relevant content, products and special offers.
You also agree that your personal information may be transferred and processed in the United States, and that you have read and agree to the Terms of Use and the Privacy Policy.
Must-know apps for Office 365 and Exchange
Wading through the number of apps available for Office 365 can be time-consuming, but there are a few apps every admin should know. Office Mobile is available across a number of device platforms for document viewing, while Outlook Web App (OWA) provides offline access to mailbox items.
Does 2015 signal an Exchange in the cloud movement?
With Exchange moving into the cloud, admins should be on the lookout for an increase in hybrid workloads, as well as new features and capabilities for Exchange Online. For third-party vendors, the focus will likely shift to products that are compatible with Office 365.
Free Exchange 2013 deployment assessment tools
There are several free tools admins can use to make Exchange Server deployments run as smoothly as possible, such as the Exchange 2013 Server Role Requirements Calculator and the Office 365 Best Practices Analyzer (BPA).
Setting up a multi-forest hybrid Exchange deployment
Organizations using a multi-forest hybrid Exchange deployment have a single Office 365 tenant but multiple Active Directory (AD) environments with Exchange installed in each one. A multi-forest hybrid deployment allows admins to move mailboxes directly to the cloud.
Three ways to handle a disabled mailbox in Exchange
Once an Exchange mailbox has been disabled, admins will want to let senders know that the address is no longer in use. One way to do this is to configure an out of office message in the disabled user's mailbox.
What content was most helpful to you in January? Was it something we didn't include in our list? Let us know in the comments or on Twitter @ExchangeTT.